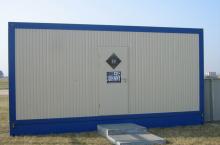 JOHNNY Service offers sanitary containers in many different forms:
- toilet containers
- as washrooms
- shower containers
- combination toilet-washroom
- with integrated mini-kitchen and separate sanitary facilities
Based on customers wishes JOHNNY SERVICE also offers sanitary containers with wheelchair access or mini sanitary facilities for children's nurseries and primary schools.
JOHNNY SERVIS is the first company in the market offering large-scale sanitary module for Events
JOHNNY service ensures delivery of sanitary facilities, including professional installation. Sanitary containers JOHNNY are immediately operational once connected to the utility network.

Based on the type of application JOHHNY sanitary containers are designed (depending on the type of container) for up to 100 people.
TYPES OF SANITARY CONTAINERS
JOHNNY SANITAR BOX – BSa1
Portable bathroom : 4x shower, 300 l boiler, 6x sink, lighting, electrical wiring, 3x window, optimum capacity approximately 50 people (long term).
Dimensions: 6050 x 2438 x 2800 mm (L x W x H)
JOHNNY SANITAR BOX – BSa2
Complete portable sanitary facilities: 2x toilet, 2x shower, 2x urinal, 4x sink , 3x heater, 1x flow heater, lighting, electrical wiring, 3x window, optimum capacity approximately 25 people (long term).
Dimensions: 6050 x 2438 x 2800 mm (L x W x H)
JOHNNY SANITAR BOX – BSa3
Portable toilet: 4x WC, 3x urinal, 2x sink, 2x heating, 2x flow heater, lighting, electrical wiring, 3x window, optimum capacity approximately 60 people (long term).
Dimensions: 6050 x 2438 x 2800 mm (L x W x H)
JOHNNY SANITAR BOX – BSa4
Complete portable sanitary facilities: 1x toilet, 1shower, 1x urinal, 2x sink, 2x heater, 80 l boiler, lighting, electrical wiring, 3x window, optimum capacity approximately 15 people (long term), for smaller size see above.
Dimensions: 3067 x 2438 x 2800 mm (L x W x H)

JOHNNY SANITAR BOX – BSa5
Portable toilet: 2x WC, 1x urinal, 2x sink, 2x heating, 2x flow heater, lighting, electrical wiring, 3x window, optimum capacity approximately 20 people (long term), for smaller size see above.
Dimensions: 3067 x 2438 x 2800 mm (L x W x H)

JOHNNY SANITAR BOX – BSa6
Portable toilet: 6x WC, 3x urinal, 2x sink, 2x heating, 2x flow heater, lighting, electrical wiring, 5x window, ladies and gentlemen separation
Dimensions: 6050 x 2438 x 2800 mm (L x W x H)