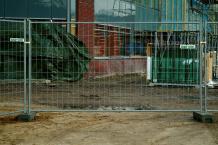 A simple, still quality fencing with dimensions 3500 x 2000 mm will meet your desires.
PARAMETERS:
Dimensions: 3.500 x 2.000 mm
Eye spacing:100 x 250 mm
Wire thickness: 3 mm horizontally, 3 mm vertically
Tube thickness: 25 mm horizontally, 42 mm vertically
Weight : 15 kg

If you search for a simple and fine fence, choose the fence PV7 with a net of 3500 x 2000 mm. The fence is storable, which is suitable when a high amount of fences needs to be moved on a single truck. The best and safest way to assemble this fence is to use clamps. It can also be delivered in the option with a hook and an eye.

THIS PRODUCT IS ONLY FOR SALE.