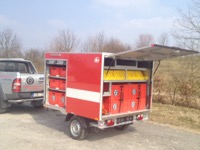 JOHNNY SERVICE in cooperation with THT Policka (manufacturer of fire fighting equipment,
www.tht.cz
) officially launched a unique product - Trailer with complete equipment for flood protection.
"For such unexampled construction we had to use advice of professional and volunteer firefighters and also our experience. Flood protection trailer will be part of the practical demonstrations of system Tiger Dam and we also plan to take part in exhibitions in the Czech Republic and other European countries. I'm very happy, we have got so many positive responses so far, it ensures me, that we are on the right way to offer complex services of flood protection to our clients, "said sales director at JOHNNY SERVICE Jiri Jenista.

Flood Protection Trailer contains Tiger Dam system with accessories to protect area of 90 metres in length and half a meter in height, service tools (shovel and pickaxe), chainsaw, jerry cans of fuel, lighting area and the trailer, including batteries, pumps or workwear. Equipment of a trailer is variable and can be easily adapted to customer needs and requirements.

Gallery: