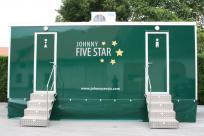 Fully automated luxury trailer.
3 ceramic toilets, 2 sinks for women
2 separate urinals, 1 ceramic toilet for men
air conditioning with remote control
Audio MP3/FM
weight 3000 kg
water tank 1000 l


Fully automated luxury sanitary trailer JOHNNY FiveStar ***** with no touch control, sound system and air conditioning meets the most demanding hygienic standards and requirements for portable toilets and complete party service.
"We always try to provide our services to a wide range of customers. This sanitary trailer is our response to growing clients' demand for premium products of special or private events such as weddings, cultural or sports parties or golf tournaments, "said Matthew Duras, CEO of JOHNNY SERVIS and added that the sanitary trailer made in Velke Mezirici can also be used as a dressing room for VIP performers at concerts or sporting and cultural performances.
Portable toilets with the wood-design floor and double lighted staircase with antiskid surface offer all the comfort to women's and men's users. There is a large mirror, contactless soap and towels dispensers and contactless waste basket. Built-in spot lighting and audio system are very nice complement.
In the ladies part there are three ceramic toilets with contactless flushing and two sinks with proximity sensor batteries. Ladies will surely appreciate the flexible magnifying cosmetic mirror. Men's section is equipped with toilet and two urinals, which are separated by a partition for greater discretion, with no touch flushing.
The weight of six-meter trailer with a height of 3.8 m and a width of 2.5 meters is 3 tons. It is equipped with water, sewerage and electricity connections, including sockets, two five-liters hot water boilers and independent water tank with capacity of 1000 liters and waste tank with capacity of 2000 liters.

VIDEO
GALLERY