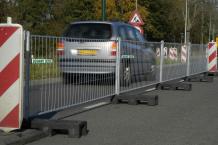 Transparent fencing with a frame filled with a fixed wire net, anchored in the footing.
PARAMETERS:
Dimensions: 3500 x 1120 mm
Eye spacing: 100 x 300 mm
Wire thickness: 4 mm horizontally, 4 mm vertically
Tube thickness: 30 mm horizontally, 42 mm vertically
Weight: 13 kg
The panel with the height of 1m is often used for demarkation. It combines the functional design of a mobile fence and the comfort of a simple barrier. The assembly with steel foundation plates prevents unhooking.